"It was such a friendly event yesterday and well organised. I must admit it was the biggest challenge I have ever done but so worth it."
Cairn o' Mount Challenge Participant
The Cairn o' Mount Challenge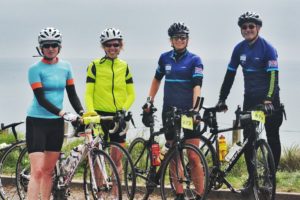 We are gearing up for another Cairn o' Mount Challenge!
As always, we offer a beginner's route - a relatively gentle 30 mile route on really quiet roads. For the experienced rider, there's the challenge of the mighty Cairn - 80 miles of varied and spectacular scenery including an amazing climb!
Download route file:
GPX Format / TCX Format
The shorter route is on the gentle roads of rural Angus and features just one significant climb - over the famous Cathertuns road and into Glen Lethnot. Featuring a refreshment stop at the half-way point, this is a great starter event for beginners or younger people, or simply a change of scenery for more experienced riders.
Download route file:
GPX Format / TCX Format
Leaving from Edzell Muir, riders will make their way to Fettercairn and prepare for the big climb up the steep side of the Cairn o' Mount. It's the end of May, so the snow gates shouldn't be closed!
The reward is spectacular views and a long run down the other side to Clachan. From there, it's a short section on the Slug Road before turning onto excellent minor roads to bring you to Stonehaven. This really is the best of both worlds because, from the mountains on the edge of the Cairngorm National Park, you will be running down the coast through Inverberview and Johnsahven using minor roads and cycle paths before cutting west towards Brechin and taking in the Catheruns road before returning to base.
Frequently Asked Questions